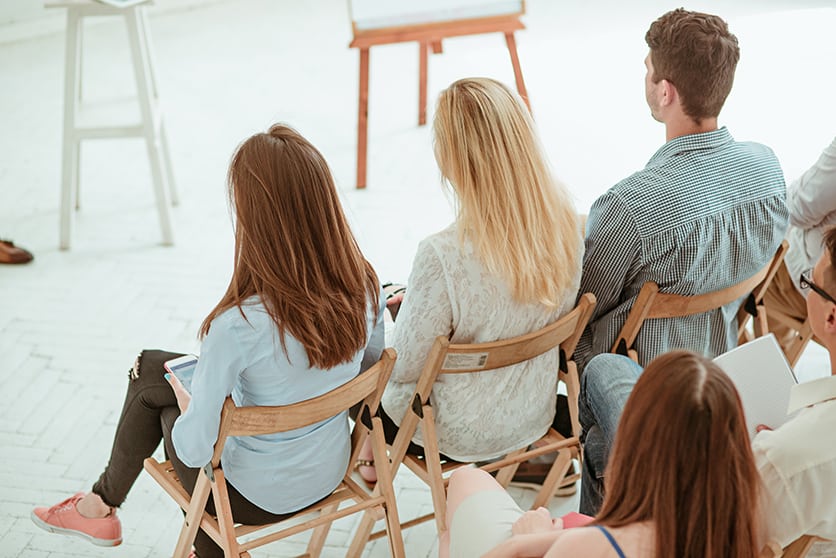 Starting a group-coaching program can pose many questions, such as:
· How many members should you accept before the quality of your program will suffer?
· How do you maximize the value of deliverables without sacrificing too much of your time?
· How much access should you offer for your members?
In this episode, we are discussing how to successfully create a quality group-coaching membership program.
Subscribe To The Show
3 Big Take Aways
How to create the right offer that addresses your audience's struggles
How to encourage group interaction
How to maximize the amount of members without compromising quality
---
Paul & Melissa's Inner Circle – The Inner Circle with Paul & Melissa Pruitt is an epic 12-month experience for online business owners, coaches, course creators, and membership site owners who aspire to create financial freedom and a lifestyle they want for themselves and their family and also create a positive impact in their community and the world.

Adaptive Membership – Adaptive Membership is an exclusive opportunity for online business owners, coaches, course creators, and membership site owners to play bigger and bolder in their business and explode their bank account with more clients!
Subscribe To The Podcast
And if you loved this episode, please share with a friend and leave us a
review!
Read Full Transcript
Melissa: it looks like next is Ariel 
Ariel: Hey guys, how are you guys? Always fantastic meeting just for me, the question is , up to this point, I've been working one-on-one with pastors and I'm really kind of reaching a point where it's like, okay, I just, I can't do it. It's just too challenging. And it's also too costly for the market that I'm trying to reach, which is small church pastors.
So I've been working on trying to create more of a group coaching mastermind program. I've got a couple of ideas, like, for example, I'm thinking like maybe on a Monday we can get together and do like a service debrief. I'm thinking of doing like once a month, a Thursday night training for their volunteer teams. 
Any other ideas, suggestions, things you do with the group coaching segment that I can kind of maybe borrow the idea and adjusted for this market. 
Melissa: Yeah. Great question. 
Paul: So does anybody do group coaching or inside of a group coaching program that they might be able to speak into deliverables? 
Gisele: In this season, I would imagine a lot of pastors need help with mastering tech tools to make their services and meetings more virtual and accessable.
Ariel: Cool, thank you. 
Paul: Anybody else have in a group coaching program or Sharon? 
sharon:  I'm not in a group coaching program, but I just wanted to say that one of the things that are on is on really small pastor's hearts right now is there people are not coming to church, so they don't know who's in the group, who's in the church and who's not in the church.
So figuring out ways to make community happen in their own churches when they don't know where people are. 
Paul: Alright.. Anybody else have any suggestions? Thanks, Sharon. All right. So from a small group coaching program, you might know a little bit about
Melissa:  I love again, what does Gisele said and sharon said, do you want to think about what are like the everyday struggles that, they're having, that you could be a solution for? So like tech, I could definitely see that as like a struggle, because you know, now that,  people are kind of in this in-between and people are still at home,  how do you do things with using all the tech?
So you think about those objections as far as like, how are you going to handle those objections, what you could do to solve that problem for them. And sometimes it doesn't necessarily even have to be like an additional call, although that, group coaching call collaboration is good. 
It could be resources that you just have, that's just exclusive to them. So any kind of like PDFs downloads things that you could create once. And I have almost like a library for people to have access to. That would be a really good deliverable that they would, they would have in there as well. 
And also too, don't underestimate breakout sessions where it's them collaborating with each other and not just you, so you could structure it to where you bring them together, but then have them in different breakout groups where they can have, you know, chats and collaborations and ideas sharing, just like what we do here, because that's where, the magic happens. 
When you collaborate on different ideas, it doesn't always have to be you teaching something, but you could get, bring them together in a group, have like, you know, a question, a topic we're going to talk about this today, break you up into groups and let's come up with some ideas.
We find that's really, really valuable as far as like with a, in a group coaching because the members, they all, you know, brain source with each other and they come up with different solutions. So that would be also something that you could do too. 
Paul:  I think sometimes when we create a higher price point program, we think we have to get more and more and more. And really people that normally invest in a higher priced program, like a small group coaching that's that stepped down from one-on-one. They just want to be around like-minded individuals that have similar questions, similar struggles that they have. They also want to put a little skin in the game so that they're equally around people. It's not like a free Facebook group where nobody's productive. It's like they know people here are serious. 
So the conversations change, like when, within our "Inner Circle", like what happens is we have our members, we do office hours. So we don't have a topic it's similar to what these calls are. Like. We sit back and they bring their question to us because we take for granted the knowledge expertise, the background, the experiences that we have. 
And even though we go immediately into like, oh, we have to do a training program for people and we have to give them these deliverables. It's simply sometimes for somebody to be able to pop on a call, be able to ask the question to the thing they're struggling with, right. This moment is really the most important thing. And that can't be pre-planned or prescheduled. 
So like in our high-level programs, it's the accessibility of being able to get your question answered that you have today, you know, type things. So you could build in a deliverable that is like an office hours type thing that you're really there just to be present. And it could either be crowdsourced like we do here, or like in our "Inner Circle" program. What we do is we, we, people come, they ask us specifically the question. So we, we give them our direct advice. Then if anybody in the community that's on the call wants to pop in. They can do that as well. 
So outside of that, sometimes there's tools that you take for granted. Like we didn't realize on our end, some of our things that we do, like in our memberships, we do a monthly scrub. We, we go through what, the beginning of the month, every month. And we go, and we look at our metrics, we look at our dynamics, we can forecast. We know what the last year looked like at this time and all these other elements. And we take that for granted.
We had a professional spreadsheet made for us. And then we, at one point we had this epiphany like, wow, I bet you, our members would love to have access to this spreadsheet because they're probably like guessing every day of the week, you know? And they can actually forecast and plan and see growth. And you know, what the churn is of their membership and everything.
You know, we have a launch, one spreadsheet that you put in your numbers and you anticipate like what your ROI is going to be. And going off the average churn rate of your, of your business. And these are just tools that are not readily out there if they don't exist. So we had them custom created for ourselves, and then we shared it with our community.
But sometimes we take for granted the things that we do, because we're further along that some of the things that your members want that are even paying and giving them like the $10 a month membership and the $5,000 a month membership, it's the same problems. It's the same questions I'm telling you. It's the same questions. 
You think the $5,000 a month, you know, masterminds, like there's gonna be some hugely different. Yeah. There's some different deeper thought or, you know, bigger strategy scaling conversations, but they also can figure out how to get the logo to the other side of the computer. They're also suffering with that in the moment they can figure it out, they get the Facebook pixel on or, or whatever.
They might also be talking about their employees or, you know, things like that. But that's going to be a little bit different than the person that's in the $10 thing, but it's the same struggles. So just, just level of access. 
A lot of times is really the, the main driver you're in a $10 thing. You pushed back a little bit more, you're going to $500 a month thing. You get a little bit closer, a little bit more access you're in a thousand dollar thing, you get full access. Like whatever that qualifier is, sometimes it's the same information. It's just different access levels. Doesn't have to be more stuff. 
Ariel: Thank you. 
Melissa: Welcome. Patty has some, you have some feedback.
Patty: The one thing that I think that Melissa and Paul do really well is that they have the hashtag progress or win. And so when you allow your members to do that, I find that the members themselves become invested in each other and they can see what progress can be made. So having that kind of community last night, I had a group           and I had read something about waving to people. Goodbye. When you go off a zoom, instead of just leaving, my members wrote to me today and said, Oh, I love that. It felt like we were a group. So little things like that can make it feel more of a community and give that value to them as well. 
Ariel: What was the hashtag,"progress"? 
Patty: No, I usually call them wins rather than progress, but you can use whatever they have a term, instead of they ask about questions, quick questions, but then they also have a hashtag you can put in that's for either a win or a progress. So that means you just are going to share a little bit about how things are going with you, and then everybody else gets to hear it. And they can prioritize who to talk to first, because they can do the quicker ones in the beginning and the questions later on. 
Paul: Yeah. 
Ariel:  Got it. So like the way you're doing the hashtag "questions" here, you do hashtag "progress". Yeah. 
Paul: So we do three layers in our, in our other paid programs. So we do hashtag progress that allows people to jump head, align, and be able to give a quick win quick piece of progress, no matter how small or how, how big just allows everybody right at the Gates starts to the, the tone of the, of the day. Also, if something positive versus going right into, Oh, I got a problem. Yeah. So it's like everybody raised their hands.
So it makes, it's very inspirational and 
aspirational for everybody on the call. And I qualify that that's like a 32nd, two minute thing. It's, there's no question there. It's not intended for full conversation. Just let's Hey, let's celebrate high five, a win. 
And then we do hashtag QQ, which is a quick question, which is you have something you believe is very quick, very fast, has no intention to have a follow-up call or a follow up question. And you just want it, does it gonna skip you in front of the line, but I'm going to be able to answer this question within like one to two minutes and we'll be able to move on to the next person. And then hashtag "question" now, we'll, you'll get those when you do this, people know this game and they'll say QQ, and then they'll start in their 30 minute backstory of their thing. 
And then I'll have to interrupt and say, I love you. This doesn't sound like a quick question. You know? And, and if it goes too long, I'll be like, look, I know this is a Q Q, but I need to bring it back to the back of the line and then be able to hang out.
We can cover the rest of us, but I'll, I'll kinda in a, in a, in a nice little wink, wink kind of way. Like we both know that wasn't a quick question, you know, and it's kind of saying indirectly, like, don't do that again. 
Ariel: You know, worked perfectly for 50, but once you hit a hundred it's too much, or is there, is there that number where it just feels like I, a certain point quality just kind of goes down. I think that's something that you kind of have to test too, because originally, you know, with, with our "Inner circle", like we were looking at with that hundred Mark, but we actually found a really comfortable spot around that 50 Mark, because we were able to have those conversations and the energy was just different. 
I think it'd be one of those things where you could set that, what you think it's going to be, but then just constantly evaluate every month kind of where you're at, because you definitely, again, when they are, you know, having that larger investment and they're . Having more access to you too, you know, you want to make sure that you're able to give that quality experience to Yeah. Awesome. Thank you.
Podcast: Play in new window | Download