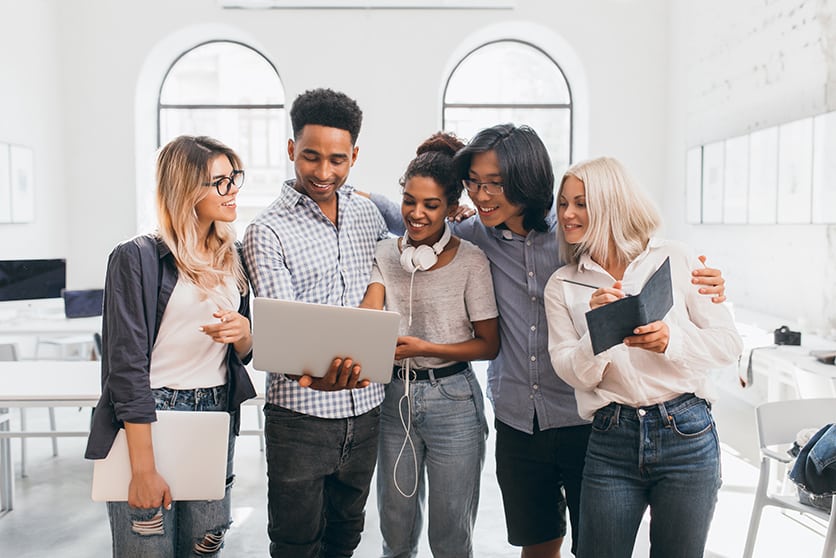 In this episode, we are discussing creative ways to increase engagement within your group and how to create the right atmosphere that will get conversations started and enhance the connection between members.
Subscribe To The Show
3 Big Take Aways
How to get conversations started between members
How to create the right culture for your members to want to participate
How to avoid limiting the conversation
---
Paul & Melissa's Inner Circle – The Inner Circle with Paul & Melissa Pruitt is an epic 12-month experience for online business owners, coaches, course creators, and membership site owners who aspire to create financial freedom and a lifestyle they want for themselves and their family and also create a positive impact in their community and the world.

Adaptive Membership – Adaptive Membership is an exclusive opportunity for online business owners, coaches, course creators, and membership site owners to play bigger and bolder in their business and explode their bank account with more clients!
Subscribe To The Podcast
And if you loved this episode, please share with a friend and leave us a
review!
Read Full Transcript
Laura: so my question is I'm looking for an array of creative ways to create more engagement within my membership in their Facebook group for two purposes, one is to get more of the snip screened snapshots so that I can create a library to then promote the membership. And then the second one is so that I don't decide that I have to give them more content because I'm at the point where there's not enough engagement.
So I feel like I have to give more, but I know that they're getting great value out of what is in there already. 
Melissa:  Great question. 
Paul: So this is inside your paid membership Facebook group in the community itself? Okay. Does anybody have any input on how to increase engagement? got Sharon that just raised her hand and Ian we'll go to you right after that. 
Sharon: So one thing that the community design masterclass, which was amazing and they talked about having a weekly schedule. So if you have a zoom call or month or twice a month, you put that up and then daily polls and questions, which you might do, you know, a couple of weeks to like multiple choice questions or a poll or a temperature thing just to get engagement. And that's been really effective. 
Paul: Great. Excellent. And Ian, over to you. 
Ian: Hi guys. So I'm just in the kitchen, I'm just preparing dinner. So I have my camera off. Yeah. I just finished a challenge and I found that it doesn't, we had a lot of engagement in the Facebook group. I had a lot of guests on and guests it completely blew my face group.     My Facebook group out of what I expected it to be. Because few days before I just sort of mentioned who these people were. They did have a bit of a name in the business, not massive, still , just to give a little bit of a flavor of who was, who was coming on and not everybody was able to engage the real time because I was doing in London time and then you had PDT time and then you had EST time. 
But then when I put everything out as a recorded version, the number of people who are commenting on that videos were way printable. So that could be something that you could look at doing that really have worked on well for me. 
Melissa: Excellent. 
Paul: Excellent. 
Melissa: Great. 
Paul: Thank you. So we have anybody else that has any suggestions for in creating engagement inside of a paid program?
So I have a couple ideas. Is there anything you want, 
Melissa: I just will tag on with that. Like the questions are good also to just having the opportunity where it's not just always related to business or the topic, but just like fun questions too, where they get to share just a little bit about their personality, hobbies, family, like, you know, just like kind of like, where are you working right now? Or what are you doing right now, type of posts to kind of share a picture behind the scenes. Also  that the members get to know each other as well too, to have that connection. 
So not always just having to do with, whatever the topic is, but just what else is going on in their life. Short questions, short little pieces, and it'll get the members to just curious about each other and asking questions. And then the more that they get to know each other, then they're just going to have conversations back and forth. And that's the really magical thing is like, when you go into the group and it's not even you chatting, but they're like chatting amongst each other. There are so excited. I love that when we go into our groups and our members are just chit chatting among each other.  It's cool to see. So, but just getting them more connected with each other will allow that conversation to happen.
Paul: And I'll speak at a couple ideas. So think about like this call. We find that every time that we do one of our mastermind event days that we do on zoom and we normally do them in person as well, but the chatter always like jumps up like crazy after people get to know each other. Cause they're more than just a screen name to one another in a little bubble picture.
Right. It's like they actually helped out, they went back and forth. So we'll do breakout sessions and things of that nature. So sometimes it's a side thing that actually creates better sense of community. Also is it a culture for your members to want to participate? And what I mean by that is not necessarily the question that a member would have or help that they would need, but what we found over the last year or so is that I'm very quick to answering questions because it's like, Hey, you guys invested, you know, one of the influencers I need to come in, but then what happens is then the community doesn't participate at all because they're like, Oh, well, I'm not gonna follow behind. Paul's answer. Right.
You know? And so then what happens? It cripples the community, you know? And it's the, the community  they've been through the same course. They've got the same modules. They heard me talk about the same thing 30 times. Now they have that knowledge. They can speak into it and empower themselves and also connects them more.
So  if some of us are like pouncing quickly, like, Oh, somebody just posted a question three minutes ago, I need to get on it while we're the one that's not doing anything else all day long. Cause that's our baby, that's our thing. But for everybody else, our membership is just like a part of their day. It's not their entire life. Like it is for us. 
Doreen: Oh, come on. It's not? 
Paul: So I would say, just give, just give a little space so that they have a chance to communicate. And as Melissa talked about when you bring in some personality type style questions, it then gives a safer space for everybody to get to know each other a little bit more.
So it just, it's something like, that's what we do in real world. You know, when we're hanging out, if we were all at the same business and we went to a business conference, yes. Some of us will not turn off. We'll talk about business the entire time. At some point though, when that shield comes down, that little hard surface, we start talking about, Hey, do you have kids? Oh, how are things going? Oh, blah, blah, blah. You know, when we start getting to know people a little bit more, and then there's more conversations that are going on, but we make it about the thing. Then it limits the conversation. 
Laura: Yeah. I do that well in my community group, my freebie and I've always had the mindset. So this has been really good that I should do something bigger and better and broader and deeper in my paid group than what I'm doing in my community group. Right. But those posts in the community group are the ones that create that engagement. So I can maneuver that, mold it for them. 
Paul: Isn't that interesting. So the engagement's like crazy over here that causes them to buy into the paid thing. Then again, in the pay thing and it's crickets and it's nothing like what it was over in the free thing. 
Laura: Right. And that's not Like, 
Paul: well, hold on. You know, that would be like being on the outside. Like, you'd be at a restaurant you hear like in the other room,
they're playing music and you're like, Oh, maybe after dinner, we should go over and have a couple of drinks and listen. But then he's, as you walk through, you realize it's really just the lobby music. And as you go into the bar, it's totally a different type of band. And you're like, what? No, this is the wrong place.
So why not? If those are really incredible engaging posts that are inside the free group, why not get a, your membership, a chance to experience that post before the free people have it. 
Laura: Okay. 
Paul: So why don't you give that post to them and then make the free people like you give it to them a day or two later. 
Laura: Okay. 
Paul: Or you share a little bit more, just a little bit deeper on that same topic you were going to do in the free with your paid and it's stuff that you kind of slightly just hold a piece or two back that you would normally put in the free. 
Laura: Okay, great. Thank you so much. 
Paul: And I see a couple hands. So I think Jackie had hers first and Doreen. 
Jackie:  Hi Laura Here in Australia. It's very dark at 5:00 AM. Look, I just wanted to say I'm part of a network where we have goal scripts. And so I run a goals group within a network, you know, cause everybody was invited to run a goals group and every fortnight we meet for an hour and we just track our progress. And every fortnight as we meet just the depth of relationship.
Whereas before that, with the, the snappish part of it, there's a lot of library resources, but it wasn't for me. I just wasn't connecting. You know? So the goals group has been a bit of a game changer for me because of the relationships. And then of course I'm accountable, I'm running the group. I have to show up and, you know, and create a little mini group within the group. That's been really helpful for me and for the people in the group as well. So I don't know. And I, and I liked the idea of the breakout rooms as all. I think that's very powerful. This network, this other network, it's a female network. They run breakout rooms twice a month as well as pretty awesome.  
Paul: We're going to go to the Doreen. Thanks Jackie. 
Doreen: Also, Laura, I don't know if you run any sort of challenges or options that you're giving a gift card by this week and put them in anybody that responds to a particular something or post their work or helps them down their path that they post  something of what that work is so that they're entered to win the gift card.  I'm aware of another membership that once a month gives a charitable donation for all of the wins that are listed throughout the month and there's reminders that happen. So all you have to do is say why, you know what the big win was this week or a few wins.
And that helps to give the feedback that you're looking for as well. 
Melissa: Very cool. 
Paul: Love  that All 
Melissa: So Laura does, all that information, give you some ideas on 
Laura: That's great! I'm complete. Thank you so much, everyone. 
Melissa: You're so welcome. 
Podcast: Play in new window | Download