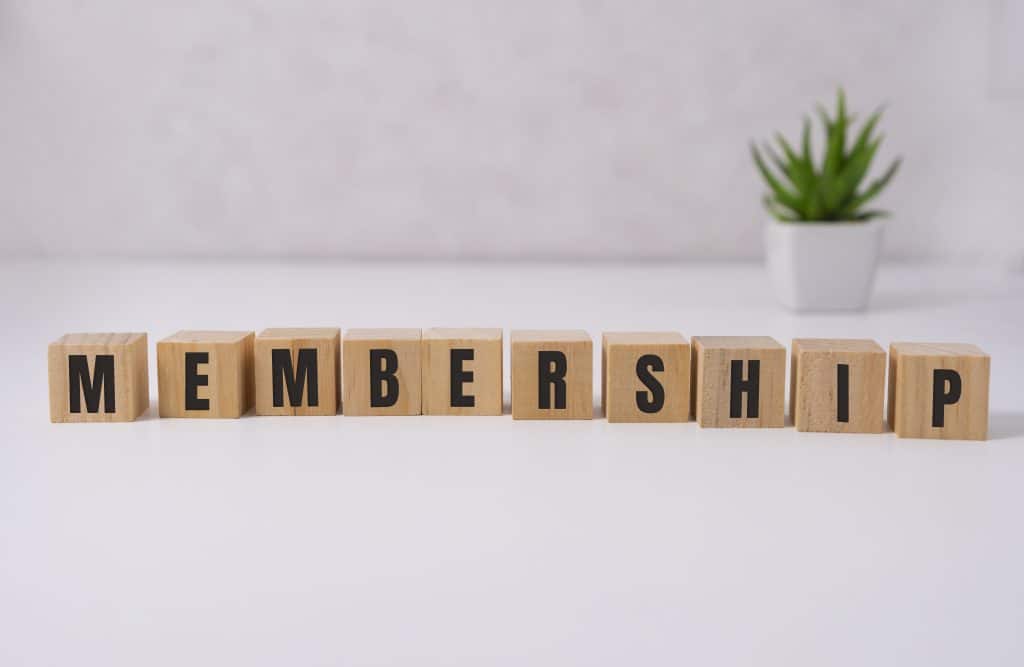 Did you ever wonder, if the platform that hosts your membership content has the right to use your content for other purposes as well?
In this episode, we are discussing ownership questions when hosting your membership content on third party platforms, why you should back up your content externally as well and what to keep in mind when signing up for lifetime deals.
Subscribe To The Show
3 Big Take Aways
Why chasing the newest technology might not matter to your members
Why you need to be careful with lifetime deals
Why you should back up your content outside your membership platform
---
Paul & Melissa's Inner Circle – The Inner Circle with Paul & Melissa Pruitt is an epic 12-month experience for online business owners, coaches, course creators, and membership site owners who aspire to create financial freedom and a lifestyle they want for themselves and their family and also create a positive impact in their community and the world.
Adaptive Membership – Adaptive Membership is an exclusive opportunity for online business owners, coaches, course creators, and membership site owners to play bigger and bolder in their business and explode their bank account with more clients!

Xperiencify – fully gamified online course platform that creates a hyper-engaging "experience"
Kajabi – Content marketing platform designed to help digital entrepreneurs and small businesses utilize customizable templates to create and sell engaging content in the form of online courses or coaching programs
AppSumo – a lifetime software deal marketplace that caters to the B2B market by offering great deals on services and products to business owners.
Thinkific – a software platform that enables entrepreneurs to create, market, sell, and deliver their own online courses.
Subscribe To The Podcast
And if you loved this episode, please share with a friend and leave us a
review!
Read Full Transcript
Melissa: so Lee said, what about the ownership of the content of my course on a membership site? So do you want to hop on and tell us a little bit about this.
Lee: Yeah, sure. So, I'm trying out this membership platform, right. So this is Xperiencify, a membership site. It's a, the one that Marissa has with her EMP program. So I'm just trying it out now. And so I'm a little bit of a geek.
So I read the whole contract before signing up and I was a little surprised by all the things that it has in there. And I was just thinking, Hey, so I need to start somewhere on the platform. And it's, it's easy to have something and you can just start up But I'm thinking now, if I take this, all the content that I put in there, and maybe in future, I will take it off and put it somewhere else.
But in the meantime, they can just go in and view, review and view all of my content and I don't know what else they can do. So I'm just a little bit concerned about that. And I was wondering if you have anything like any tips on that, how to proceed with that, or if that even should be a consideration for me or not.
Paul: This is a hot topic probably in general, in the most of us are probably totally unaware of this.
Does anybody have any suggestions?
Melissa: I see a hand who is that ferric
Erica: Just anecdotally, I'm personally, I'm always afraid of that too. But if I think about what my own behavior in other people's programs, even if I paid top dollar for a high ticket program and, and I really valued the content that's in there, I never get to at all. I still never do. And I certainly wouldn't have the energy or the discipline to go up, to do all the program and then go back in there and try to like take stuff or download it and save it all.
So personally, I don't think most people will, will do that. Even if the thought crosses their mind. Do I have rose colored glasses on?
Melissa: That's a good point.
Paul: Can I clarify because when it comes to licensing, it's in fine print. There's always two sides of this, especially since all of a sudden this business space and the thing that I'm not clear on.
That's why I want to clarify. Are you more concerned as a membership site owner course owner uploading your content into a platform that potentially can claim that it's their content because you upload it into their space, or are you concerned as a member of a membership site that that owner says you have lifetime access, but then it's going to be cut off at some point.
I just wanted to clarify.
Lee: Yeah. So for me reading the contract, this is really the Xperiencify of the platform itself. So they what, what, what can they do? Can they take the content? And I'm just calling out this one platform, but I see it's kind of this sort of thing happening on other platforms, social media platforms as well.
So they just, they give you notice that they have the rights if they want just to go into your content and I dunno whatever they want to do with it. So that's where I'm coming from. But so yeah, if I would have clients in my membership membership site, I would be less concerned because they would have actually had paid a price or they had my consent.
Right. So, yeah.
Paul: Okay. I just wanted to clarify that, that way. Heather has her hand up and somebody else was physically, I thought it was. Somebody physically raised it up.
Heather: so in terms of what, what they can do, it should have been really specific within their terms and conditions. Like for what reason they could do what with your content.
So I would just go back and look very carefully and closely at that wording because more than likely. And I, I to read all the terms and conditions of everything, I annoy people because I won't sign until I've read it all. Because I learned the hard way in my twenties, but I think it's probably more to protect them from having content on there that could be deemed harmful, like from what you're describing, but I could be wrong.
So I would just go back and really carefully look at the wording that concerns you cause it should be super specific about to what end they can do that. Does that make sense?
Lee: Yeah, totally. Even even thinking maybe I should get legal help in there just to know how far they can go with certain wordings, but yeah, totally.
Makes sense. Thank you.
Melissa: And then Alisa, it's a, how you say it, Alyssa?.
Alyssa: Sorry, it's Alyssa, Alyssa. Hi. So I know that this Xperiencify thing has been sort of up on radar. A lot of people been talking about it. This is just a general philosophy I have about technology, and it's going to be a question I'm going to raise later. In general, I just feel like as an entrepreneur, we're so busy and it's not really about what they can do with my content is to how much time I'm investing to get gear up on the technology.
And do I really want to reinvest my time to learn another technology? My preference is to go with lifetime deals, you know, is that I know I'm going to get updates and I get, if I don't make money, like I don't have to worry about it. So that that's kinda, you know what I'm thinking. And then what Kajabi, as an example, I've known so many people who put their courses there when their contract is up and they're trying to get it out.
They're not going to make it easier to, for you to migrate out because what's the point. And so then, you know, when people think about, I have to put everything back into another platform that is work, so people just don't end up leaving. And that is it's really the cost of your time that you have to think about.
Paul: So anybody else have any input? Okay, this is more technical. So definitely I'm not an attorney. Most of us are not as probably detailed as Heather where we read the fine print of everything. I know I just got a update on my iPhone like two nights ago, and I did have the ability to read before I accepted the update.
But have I ever really read it? I can't admit that I have, has there been. You know, concerns over the last several years on Instagram and Facebook of like, they claim that they own the content that you upload and they can reuse it in marketing and things like that. Like, I think all of us are vulnerable, no matter what, like we don't own the plot.
Even the website that you upload your stuff on, you know, you don't know behind the scenes that that company is going to be gobbled up by another company like two months from now my biggest concern of lifetime deals for any of us. Cause I'm, I'm an AppSumo junkie and I will buy into like what lifetime access things.
And I'll say, I've been doing this for many years now. Several of those lifetime deals got swallowed up by another company that does not have a lifetime deal. So in order for you to continue, you now have to go into their reoccurring thing, even though you had this lifetime deal you thought, well, the company doesn't exist anymore.
So you have to keep in mind, is that when you're starting off and you think like, wow, this is really cool lifetime. Lifetime deals, can't be indefinitely supported. Like there's a physical cost of support on products and services. So for you to go with a company that's not well-financed, that is probably doing a hit in what's called they have other words for it, but basically hit and run where they'll make like millions of dollars in the next six months.
And then they'll basically not support the product after that because they made their money and they'll go create another product and do the exact same thing. Got to be very, very careful not saying that's. I have no idea about the program that you guys talked about. I have no idea, no experience with it whatsoever.
Now, while I will say, is that all of us, all day long, you don't know what cloud service really means. I don't know where my stuff is really being held on my iPhone, out into the cloud. You know, can somebody hack that at any point in time? Is it going to be, well, we see this every day, some celebrity is being threatened because their stuff is now . Hacked.
Are you guys getting emails, like Hey, I got a password from like 15 years ago, you're in a database and claiming that you were doing naughty things on the computer and send me Bitcoin money, you know, like we get these all day long, you know, it's, everybody's getting them it's because Experian gets hacked.
You know, bank America gets hacked. Like all these, you know, all of our information is exposed out there. So what is really private? So I think each of us always had to make that judgment on our own.
You know, it is very legal. So if you feel comfortable and confident to have something reviewed by an attorney, what I will say that this is just what I've learned in life in general, owning several multi-million dollar businesses, those big companies are not going to change their agreement for you.
So you're going to pay that attorney to spend a lot of money, a lot of time and effort to like, say like, here's the things you should actually get on to protect you. And they're just going to be like, no, you can go on, you can go buy something else. And you just spent all that money thinking you're going to have them change their terms and conditions.
And there's a reason why their attorney put it there. You need to protect them. So then you just, you're going to have to make a decision to move on.
Now the other thing that was brought up in all this, Melissa and I have lived through this, we have been on several different platforms through the years and in the internet marketing space, it's called stickiness.
Okay, how can we make our product or programs so sticky that you are going to be a member of it forever? Because the more content you put in it, the harder it is to under wind yourself from it, great business model, great for them. You know, like there's nothing wrong with that.
Now I will also say is that we see a lot of people chasing technology all the time.
Who's not chasing technology? Typically are your members. They just want the content you promise. And the transformation you promised, we get caught up in, oh, this thing doesn't give a badge and I really don't need this badge. And I need to be gold and need to be on left side. And the program that I'm with, won't put it on the left side.
It puts it in the bottom corner. I'm going to go find a different program. And now I'm going to spend the next five months with the VA to get all my years of content off, just so I can get a badge on the left-hand side. You know, like you gotta be careful.
And I'm telling you this from experience, we paid over $40,000 two years ago to have a custom built membership site had about 15 plugins running in and out of it and custom design stuff running.
And while we were teaching a live mastermind event to our members, one of our members raised their hand and they said, Hey, Paul and Melissa the membership site is going to an inappropriate website right now.
Just wanted to let you know. Now we're in the middle of teaching a live event. Thankfully it was a small intimate group. We're like, oh, what? Well, one of those plug-ins lifetime deal, probably a guy in a basement or a woman in a basement create a really cool thing. And they just didn't support it. And it was a vulnerable plugin and a hacking type of company inserted over 40,000 pieces of malicious code into our website between the database.
So our entire site was taken over. Now we hired a company called Wordfence and they can go in and their team within, we did an emergency thing. And within like two days, they were able to strip it all down and get everything back and running again. We had a report that I made.
Here's the irony of all of this. This is not a fun moment for Melissa because she's our integrator and she did it, but she uploaded years of content into Thinkific as a temporary fix. Here's a $99 thing. We're in the middle of teaching a live thing. Can we just get all the videos, everything.
Thankfully, we had them on Dropbox and we were able to re upload them and all the assets. She didn't talk to me for like two weeks. It was, it was a very painful thing.
Here's the irony. Here's the punchline. And some of you you've heard us talk about this, cause it's a true, it was not fun. We got emails from our members thanking us for the upgrade, how easy it is for them to now find the content that they wanted. I'm not joking. I'm not joking.
Melissa: This was based off of a custom built membership site with all the bells and whistles to 99, 99 $. And they loved it because they were able to get the content. So, yeah.
Paul: So just use our hard earned story that you got to keep in mind is that when you do these, one-time offers, you do these new deals and these new whizzbang things that people are saying, sometimes you are getting in on something early and that's cool.
And sometimes you just have the Ford thing and just say, if this person is doing a deal at a one-time offer, where at what point are they not financially supported anymore? You know? And then what happens then? Are they going to abandon it? Is it going to disappear because they can promise anything today.
But if any of you have a lifetime deal and a membership, at what point, if you don't bring in any new members, are you going to still serve your lifetime members five years from now? If you didn't bring in anybody that's giving you reoccurring. At what point do you abandon the project? I'm sorry, I didn't mean to go on a rant there.
I'm just hoping this helps you through our own experiences. That was so such a tangent. I'm sorry.
Melissa: Definitely do your research. Definitely do your research. So good. Awesome.
Lee: Thanks so much. Awesome. Thank you.
Podcast: Play in new window | Download