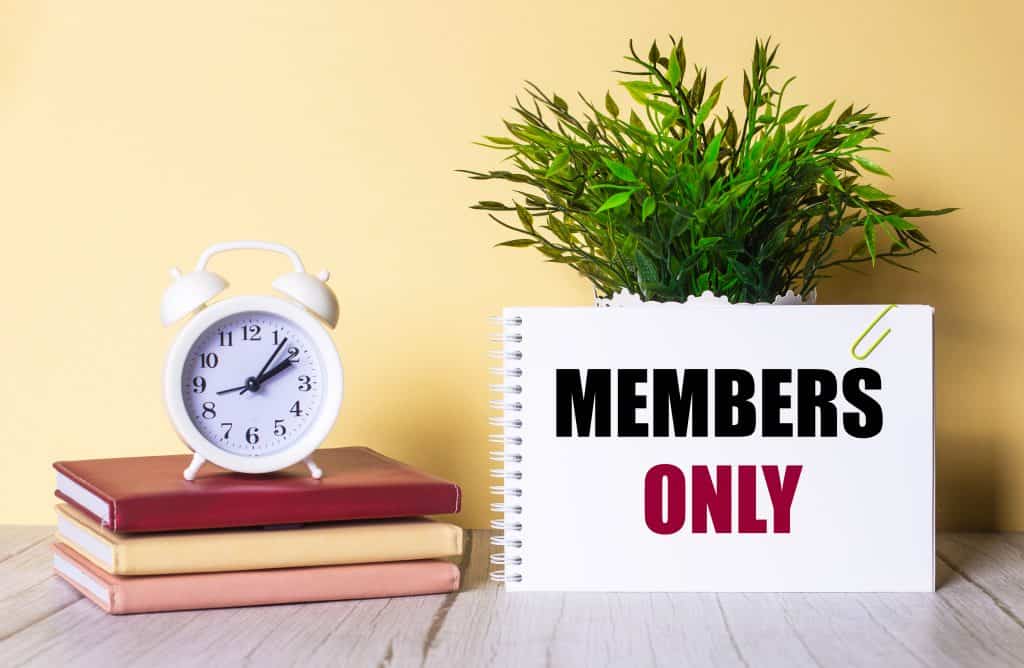 In this episode, we are discussing how to strategically encourage your members to renew their membership, how to re-establish the value proposition and what to avoid that might lead to membership cancellations.
Subscribe To The Show
3 Big Take Aways
How to avoid sabotaging the renewal through the wrong messaging
How to re-establishing the value proposition by sharing success stories
How to decrease membership cancellations
---
Resources
Adaptive Inner Circle – The Adaptive Inner Circle is an epic 12-month experience for online business owners, coaches, course creators, and membership site owners who aspire to create financial freedom and a lifestyle they want for themselves and their family and also create a positive impact in their community and the world.
Adaptive Marketing Program– The Adaptive Marketing Program is an exclusive opportunity for online business owners, coaches, course creators, and membership site owners to play bigger and bolder in their business and explode their bank account with more clients!
Subscribe To The Podcast
And if you loved this episode, please share with a friend and leave us a
review!
Read Full Transcript
So I'm just looking for Paul's and Melissa's ninja words. I am about to my membership. The founding members first year ends on the 18th of January.
So that's three months. So I was just going to write and say, you got three months left. We talked about this earlier. How do I word that? So that they are encouraged and excited to continue. Especially those eight people who haven't been really involved. Do you have any words for that. Excellent. I know you do.
we'll definitely jump into the pool on this, but does anybody, has anybody else had annual memberships where they had success on getting people over the hump of that renewal? Have you received an email that was like super ninja and it was really cool and you know, that you might be able to share, I just want to open it up.
Karie: Was going to say, you know, I've got semi-annual and quarterly and monthly memberships and particularly for the quarterly and the semi-annual, which could be annual, right. If I have an email I send out every time that just basically reminds them that the renewal is coming up.
Pam: And, you know, I talk about the good things. And then I say, you know, just want to remind you that I'm going to be charging you on this day. And if you would like to, you know, but then I also give them the cancellation option at that point. basically it's like, at least tell me before I'm going to charge you.
So but I don't make a big deal of it. Right. I mean, because and it is somewhat even surprising to me that the people that, you know, I'll, I'll look at their open rate and it's like, you know, like 2% of my emails have been opened. and some of them continue to pay, you know, we always sort of sit and go, I don't quite understand what value you're getting, cause you don't doing anything, but they obviously still see some sort of value.
So don't discount those, you know, eight people or whatever that aren't doing anything because you know, maybe it was just like a really rough year and next year they're hoping for better and you know, able to participate more. So I, I would say don't make a big deal of it, you know, tell them that it's up for renewal.
You know, let them let them engage right. And make a decision.
Paul: I love it. Thank you, Karie. And we'll go over to Christine.
Christine: Yeah. I'm a member of a membership which renews annually on January 1st. And I've definitely noticed he's now sending out regular emails to all of us, reminding us of all the amazing benefits of the membership.
So I, I think that is one of the key strategies to keep reminding people of what the amazing benefits are, what we're getting out of the membership.
Melissa: Excellent.
Paul: Love it. love it. Thank you. Any other input or insight?
Melissa: I want to just piggy back with with what both Carrie and Christine said, it's about the benefits, but yeah, you just assume they're going to renew, like, it's just, don't assume that, like, again, if you plant the seed in their mind where it's like, oh, I don't know you haven't been in here, you haven't done anything.
Then they are going to question you just assume, assume the sale, assume they're going to renew. Talk about like, how awesome and amazing and all the amazing things that you've done so far, all the amazing things that you've planned in the future. And when you assume that it's just, it's, it's that positive reinforcement that's going to propel them to renew.
Kinda like what Carrie said, they naturally make a big deal about it to point out, oh, you haven't been here and you haven't done this. You just assume that they're going to renew. That was all I wanted to say.
Sharon: Is there a point in saying, remember, you're here at the founding member price that you have, as long as you stay a founding member and that the current price is double what you're already paying or did not talk about money?
Paul: Well, the thing is is that if, if you get to the point where you have an existing member and then you have to draw the value of being just the price point, it becomes a more of a logical decision and very transactional versus the other elements of the potential transformation. So what I would do is any of us now, and I have to say, we're not perfect yet.
This I'm just going to give you like the ideal world. You know, I always frame things like this is the perfect. Client experience. I would look at a, if, if this is more advanced, I would actually have a sequence. So would actually look at the renewal date in order back up like a week before that in or drop something like the automation would be dropping an email to, again, talk about value benefits.
Right. But also really excited because in two weeks they're getting this beautiful, incredible thing that's being unlocked for them. Okay. So what does that do? That gets them over. There's a carrot on the other side of that, that renewal there's a carrot on the other side. that way it just automatically triggers, like the automation itself would just be like, oh, let's seize that.
And there's when the renewal is, and then it just happens without you even thinking about it. Now, if you do an annual launch and you know, every year yeah, this is the over the hump period. You know, you will see a lot of influencers that sell into big programs and they do big launches. Like they do have almost like a, an annual renewal, you know, pulling people through.
So what they'll do is about what you said about three months ahead of time, they'll drop in a couple extra emails, but they're not, again, they're not calling out like, look at the elephant in the room. What they're doing is they're going back and re establishing the value proposition. They're talking about assets that are in the membership, the things that they can consume, like how incredible this is.
They'll actually do many like success stories of people that have had transformations that are getting wins no matter how big or small that's going on. And a lot of people just see that as like normal emails that are coming. It's like, no, they're very strategic because they're reselling. The members before that moment.
Right? So should there be a reminder email somewhere? I hundred percent believe there should be because otherwise what will happen is you're going to get people that will hit you up. And they'll say, can you refund me? Or three months later, you'll get a, Hey, the bank is just, is I'm charging back this charge on Stripe or a PayPal.
And now you have a dispute because the person is looking at their debit card and they forget that they signed up for this thing over a year and a half ago or whatever. And they all don't know what this company name is. And just because they've checked out at some point and they forgot all about it and you want to decrease those opportunities.
So I wouldn't look at that as like a dirty thing or just like a polite little reminder, like a one-time in and out, I think is more than sufficient. You'll see a lot of companies do on an annual typically about a week before it gives people enough chance to see the email, because we're all in the online space.
We like check our email, like every five minutes. Not everybody does that, not everybody does that. Like, you know, some of us have seen that, you know when you're in this launch mode and you have a whole bunch of emails going out on a launch, and then you get the one person, the emails you back and go, you send me 25 emails.
It's like, no, you didn't check any of your stuff for like two weeks. You know, you got our whole entire launch in one bite, you know? So we just had to make, keep in mind that not everybody has their same habits. But what, what I would do is I would think about like, if you, if you do have a lot of people renewing at the same time, what, because technically you can do this.
That's, they're all around the same timeframe. What I hate to call a piece of bait, but what what's that care? What's that piece? Is there something that could be highly desirable? They are just placing over that finish line. Like, so they continue through the race, you know, and that, that normally gets people all excited,
Now, if you notice those of you that are in adaptive or inner circle, we even purposely like Melissa does a monthly live. That's basically like a re onboarding of our programs. She does a Facebook live right in the Facebook group. She shows and she takes like 40 minutes and she walks through and she has all the assets and all the things.
Now, why is that? Because there's different people that are renewing at different moments in time. And if we can call attention on how they can get to a resource that they forgot about, or they didn't know how to get to, or weren't aware of, you know, there's a, so this, this cycle, so we're, we're always in that mode.
But I wouldn't, 90 days out is a long way out. And it just something like if you're just letting them know, like three months ahead of time, that's just a good, because there's nothing, no other context there. That's just a good time for people to hit reply and say, oh, just canceled me. Right. You know what I mean?
So like, then it's like, oh, you just caught it out and made them aware. And now it's just so I would, I would do more like 90 days out, maybe once a week, drip out something that calls attention to the value and the benefits in the membership.
Sharon: So don't do it now.
Melissa: The reminder email, at least maybe like a week before their renewal date, but between now and then like the reminders about all the cool things that are happening in the membership, the transformations and everything.
Sharon: Yeah. Okay. Okay. Perfect. Thank you.
Melissa: Oh yeah. You're welcome. Good question.
Podcast: Play in new window | Download