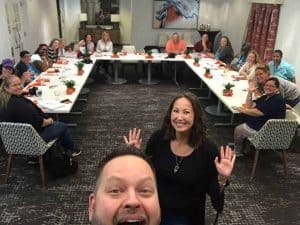 In this episode, we are sharing from our own personal experience how building a group of like-minded people can create new customers for you and how you can find fulfillment on a deeper level by giving to your community, even if some had outside training in other membership programs.
Subscribe To The Show
3 Big Take Aways
What you can gain from a community of like-minded people
Why helping group members that got their training elsewhere is beneficial for you
How the law of attraction can create future customers
---
Want to learn more on how to build, launch, and grow your memberships?
Make sure you subscribe to the Memberships Mastermind Podcast to get
information on how having a membership can help your business thrive.
Resources:


Paul & Melissa's Inner Circle – The Inner Circle with Paul & Melissa Pruitt is an epic 12-month experience for online business owners, coaches, course creators, and membership site owners who aspire to create financial freedom and a lifestyle they want for themselves and their family and also create a positive impact in their community and the world.
Adaptive Membership – Adaptive Membership is an exclusive opportunity for online business owners, coaches, course creators, and membership site owners to play bigger and bolder in their business and explode their bank account with more clients!
Subscribe To The Podcast
And if you loved this episode, please share with a friend and leave us a
review!
Read Full Transcript
Melissa: There's one question that just stood out here: Alyssa just asked: "For Paul, Melissa, there's so many people coming to you from other membership training, joining your group, what would be your reason for helping those who've gotten the training elsewhere?"
So I thought that was a good question.
Alyssa: Yeah,I was, yeah.
Paul: What would you say?
Melissa: I think this is with, for all of us, like we can learn from a lot of different sources and I think that's the thing that creating this community was all about bringing like-minded people together. We all are coming from different paths of life.
We've all have had different experiences. We've all had different types of training. And so even though everyone in here has had different experiences, we all can learn from each other. It's an abundance mentality that we can all learn from each other. And it doesn't matter if you've gotten training elsewhere, you can always learn.
And I mean, I'm constantly learning stuff every day. And I learned from you guys, I learned from our students our programs, I'm always open to learning so that the minute that you, you know, getting open to learning, that's where you should really start to kind of examine where you're at. Because I think we always can learn something from someone else, no matter what level they're at.
Paul: And I think Melissa comes from a, you know, she has two psychology degrees. She was a therapist, clinical social worker. So she's always been in a give type mentality, you know, as far as serving, I come from a there's no, my backstory not to go on. I'm not going to go in deep on that. But like come from a very poor background and going from being very, very poor and homeless several times in my life to a multimillionaire, to losing everything and cycling back that you just have an appreciation, you know, you look at Maslow's hierarchy of needs and you, you go up and down, you know, we cycle in life and it's like,so for us, it's something that they introduced to Melissa a couple of years ago because we did very, very well already when she came, when we came into our relationship, my business that I had at the time was doing very well.
And I just sat there like how much is enough because you gotta be careful when you get into this internet marketing bubble,it's more, more, more scale, scale, scale, bigger numbers, decimal points, being moved over, things like that, but you're not more fulfilled, you know, will always move that goalpost will always do the next thing.
So for us coming into this year, even, even with us doing like what we're doing here with memberships mastermind, it allows us to serve and give back. And when you do that with your own people, with your own following, naturally when you, the, the world will typically reciprocate, you know, it's a law of attraction, like what you put out in the world naturally, there's the right people come to you and there's no string attached.
So what happens is we have an abundance mindset and we're very blessed and very lucky that we are beyond our goals that we set. You know, we even ourselves, we developed three different memberships. Now we're not new to memberships. I've been doing that since 1996, as far as the online memberships. So we we've made millions of dollars in memberships over the years, but just something like is that really important?
You know? So it's like, you know, taking our experiences and being able to give back and have a different perspective that sometimes is congruent with what's being taught.But then we have our own experiences and backgrounds of saying, Hmm, sometimes that's not right for some of us, like there's no vanilla answer that's a hundred percent right for all of us all the time.
And we liked the intimacy of these conversations because this is close to, we can get the real life conversation to all of us in a room at the same time. And for, for us, I think it just fulfills us, even when everybody comes like in this space, because we can serve in those that are ready, willing, and able.
And they have the like, know ,and trust elements that want to be part of our world in our paid programs, they get a piece of us. They see what we're about. They see our values, our belief systems, they see what we give. And there's a natural law of reciprocation where some people will come in and invest financially as well as their time and energy into our programs.
And so it's a win-win, there's like nobody that loses in the entire cycle of all of it. And if you,each of you can bring a little bit of that into what you're doing and what you're serving because sometimes the ripple effect, you know, fulfillment is very rarely, is it a dollar sign.
We think it is. We're programmed that way, but I was the guy that was making the millions of dollars that was depressed.That was sitting in a fancy car, crying my eyes out because I had no friends anymore. I isolated myself. I was always the go getter and blah, blah, blah. Like that's not desirable.
Yeah. So it just, so for each of us, like every one of us, whatever we do, there's other people that are making more,making less people are doing it for free. People are doing for a lot of money. Just make sure that what you're doing gives you purpose and fulfills you because you know, that'll show and that'll shine and naturally the right people will invest back in you because they see who you really are.
You know? I think that's the most important thing.
Melissa: Thank you for that question. That was a good question.
Podcast: Play in new window | Download